2017 International Galvanizing Technology Conference China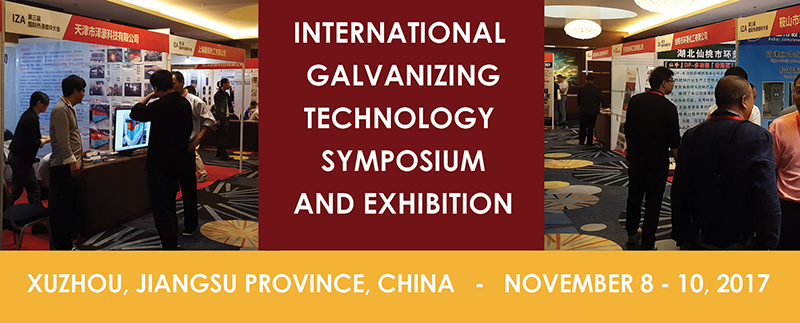 The 2017 International Galvanizing Technology Symposium and Exhibition will be held in Xuzhou in the northern area of Jiangsu Province with good rail and air connections to all major cities in China, including direct flights to Hong Kong and Taipei. The conference will present the latest international technology and market developments for general galvanizers with emphasis on improving quality, cost reduction and demand increase. Special attention will be given to pipe and tube galvanizing. The exhibition will showcase the latest market offerings and information from international suppliers.



REGISTRATION
To register, please complete the registration form and send to izachina@163.com

REGISTRATION FEES
Early registration until 15 September: IZA Members – US$ 300   /   Non-IZA Members US$ 400
Late registration as of 16 September: IZA Members – US$ 500   /   Non-IZA Members US$ 600
Fees include admission to all sessions, conference material, plant tours (Dahuangshan HDG Operations and Shandong Hengda Co., Ltd.), refreshments, lunches and dinners.
 

VENUE
Wyndham Xuzhou East
Longhu West 16, Yunlong District,
Xuzhou, Jiangsu Province, China
Tel.: +86 (0)516-81918888
Fax: +86 (0)516-83055608
The hotel is conveniently located about 10 minutes from Xuzhou East high speed train station and 30 minutes from Xuzhou Airport.



PRELIMINARY PROGRAM
Wednesday, November 8
1:00pm: Registration starts
6:00-8:00pm: Reception
Thursday, November 9
Opening ceremony
Part I: New General Galvanizing Operations Technologies
Part 2: Environmental Controls in Galvanizing
Part 3: Quality Control Technology in Galvanizing
Part 4: Plant Operations Workshops
Friday, November 10
Part 5: New Global Markets in Galvanizing
Visit to Dahuangshan Hot Dip Galvanizing Operations
OPTIONAL PLANT TOUR – 11 November (no extra charge)
One-day plant tour to visit the galvanizing line of Shandong Hengda Co., Ltd. in Shandong Province.
Transportation will be by bus.
Further details will be provided soon.
SPONSORSHIP/EXHIBITION
The event provides a number of sponsorship and exhibition opportunities. Please contact us for information at izachina@163.com
ACCOMMODATION
IZA has blocked a number of rooms at the Wyndham Xuzhou East hotel at a discounted group rate of RMB 475 (ca. US$ 70) per room per night. To benefit from the group rate, bookings have to be made through IZA by completing the appropriate section on the conference registration form. IZA will only guarantee room bookings after having received your conference registration fees. Payments for your room have to be made directly to the hotel upon arrival.
The cut-off date of IZA's room block is October 20, 2017. After this date rooms are subject to availability/rate. This applies also in case IZA's room block is filled prior to the cut-off date.
Room cancellations made prior to October 20 will be fully refunded. Cancellations made on or after this date are non-refundable
CANCELLATION POLICY
Cancellations are refundable (less a processing fee) if made prior to October 20, 2017. Cancellations must be made in writing. Cancellations made on or after October 20, 2017 are non-refundable. Substitutions are permitted at all times.
ORGANIZERS
Organizer: Zinc Association Information and Technology (Shanghai) Co., Ltd.,
Co-organizer: Xuzhou Dahuangshan Hot-Dip Galvanizing Factory
Program Advisor: International Zinc Association
CONTACT
Zinc Association Information and Technology (Shanghai) Co., Ltd.
Mr. Tony Tong
Email: izachina@163.com
Fax: +86 (0)21-33321915