2018 International Zinc Conference – Europe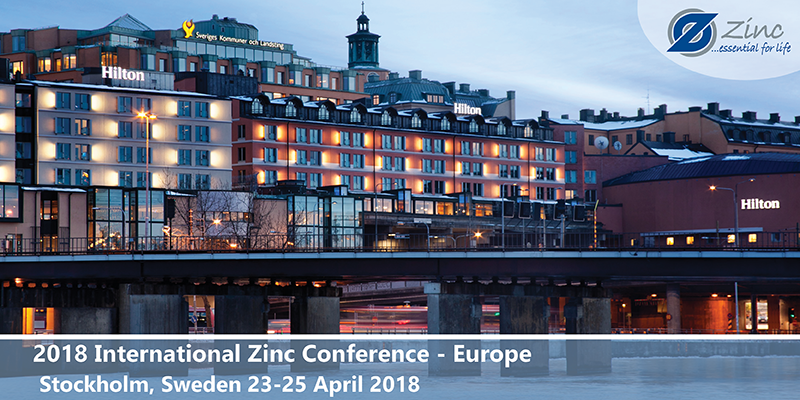 2018 International Zinc Conference – Europe
Hilton Stockholm Slussen
Stockholm, Sweden
23-25 April 2018
Registration is now open!
General Information:
The International Zinc Association's second International Zinc Conference – Europe aims to be the preeminent conference in Europe for networking with leading zinc industry stakeholders. Hear from international experts on important topics such as:
Global zinc market outlook
Regional market outlook in China, Europe, India and Latin America
New market segment developments
Key Industry Challenge
Delegates will also have the opportunity of participating in an optional mine tour to Boliden Garpenberg.
Fees:
Delegate fee:
EUR 1,550 – early registration fee valid until 15th March;
EUR 1,750 – applicable 16th  March – 13th April;
EUR 1,950 as of 14th April
IZA Members save EUR 150 on above fees. Discount code for IZA members: IZA18

Special discounts:
Groups as of 3 delegates: Savings EUR 500 per person for IZA Members (EUR 350 for non-members)
Delegates who attend the International Zinc Conference in Carlsbad, California in February 2018 save EUR 250 (IZA Members) / EUR 100 (non-members).
Zinc Customers receive a 40% discount on the delegate fee. This applies to galvanizers, die casters, brass, fencing, zinc oxide and fertilizer companies, and steel mills.
Please contact bwirths@zinc.org to obtain the relevant discount codes.
Fee for optional mine tour to Boliden Garpenberg: EUR 100
This includes bus transfer from/to Stockholm Hilton Slussen.
Note: Participation is limited to 80 delegates and no more than 4 delegates from the same company.
Fee for spouse/non-business guest:  EUR 125
This includes admission to receptions and lunches.
Program Overview:
Monday, 23 April : Registration (starting at 10am); Lunch, Conference and Welcome Reception
Tuesday, 24 April : Conference Sessions (all day) followed by a Reception
Wednesday, 25 April : Optional mine tour to Boliden Garpenberg (all day)
Optional Mine Tour – 25 April:
Garpenberg is Sweden's oldest mining area still in operation. In 2014 Boliden expanded significantly capacity by adding a new production plant. Today, Garpenberg is one of the world's most modern, productive and eco-friendly underground zinc mines. The complex ores contain zinc, lead, silver, copper and gold.
This is an all day tour. Transportation will be by bus.
Departure 7:15; on the return we will pass by Stockholm Arlanda airport (approx. 17h30); expected return at hotel approx. 18h15.
Conference Venue:
Hilton Stockholm Slussen
Guldgränd 8
SE-10465 Stockholm
Accommodation:
IZA had blocked a number of rooms for Zinc Conference participants at the special rate of SEK 2050 per night for single occupancy and SEK 2250 for double occupancy. Rates include breakfast and VAT. Free Wifi is available throughout the hotel.
The final cut-off date for room reservations was 26th March 2018. Room bookings made after this date will be subject to availability/rate.
Please contact the hotel by email to check availability and (IZA group) rate: reservation.slussen@hilton.com .
Location:
The Hilton Stockholm Slussen is conveniently located on the island of Södermalm. It is 5 minutes from the Old Town Gamla Stan with the Royal Palace, museums, arts and craft shops, restaurants and bars.
Distances:
Stockholm Arlanda Airport (international flights): 40km
approx. 45 minutes by taxi – approx. SEK 700  (fixed price taxis are around SEK 500) /  Arlanda Express train to Stockholm Central Station: journey time 20 minutes – SEK 280  (trains depart every 10-15 minutes)
Bromma Airport: 20 km
approx. 30 mins by taxi  /  There are also airport coaches to Stockholm Cityterminalen at Central Station. Coaches
depart in line with flight arrivals.
Central Station "Stockholm C": 15-minute walk /or 5 minutes by taxi / or 2 underground stops
Slussen – Metro station (tunnelbana) and bus terminal: 2-minute walk
Cancellation Policy:
Cancellations must be made in writing (email, fax or post) to International Zinc Association, 2530 Meridian Parkway, Suite 115, Durham NC  27713 USA; fax: +1 (919) 361-1957; email: contact@zinc.org no later than 30 March 2018. All refunds are subject to a EUR 100 processing fee and will not be processed until after the conference. Cancellations made after 30 March 2018 are non-refundable. Substitutions are permitted.
Hotel cancellations must be made directly with the hotel.
Further Information:
Berit Wirths
bwirths@zinc.org