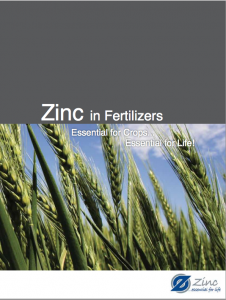 Zinc in Fertilizers – Essential for Crops … Essential for Life!
A brochure highlighting the importance of zinc fertilizers in correcting zinc deficiency in soils and crops with the objective of increasing crop quality and yield and getting more zinc into people's diets. It is estimated that one third of the world's population is zinc deficient, resulting in numerous health problems including poor immune response which may lead to high mortality rates especially among small children. For millions of people a few extra milligrams of zinc each day can make a difference between illness or death and a healthy, productive life.
To download this publication, click here.
---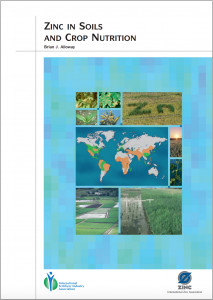 Zinc in Soils and Crop Nutrition
by Brian Alloway, Emeritus Professor of Soil Science, University of Reading, U.K. 2nd edition 2008.
Zinc is needed by plants in small but critical concentrations for a wide range of physiological processes. Zinc deficiency causes reduced yields, impaired quality and increased susceptibility to disease. Zinc deficiency is the most widespread of all micronutrient problems in crops. The current report puts the problem in a geographical and agronomic context and deals with the economic and humanitarian consequences of lost yields due to vast areas, amounting to millions of hectares of crops, being affected by zinc deficiency.
To download this publication, click here.
---
Fact Sheets
---
Infographics