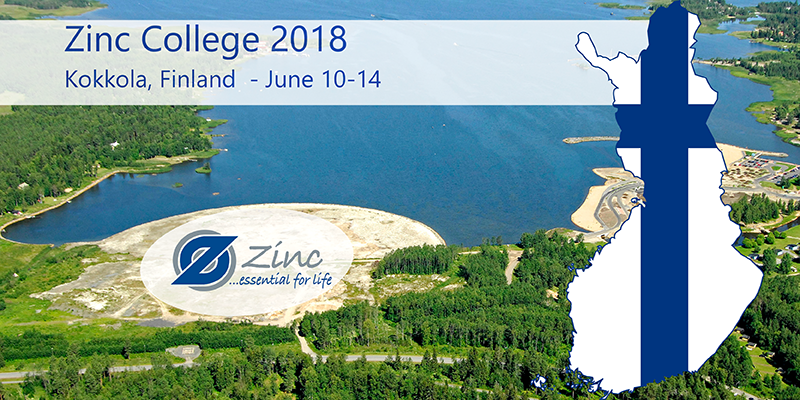 Zinc College 2018
Kokkola Townhall
Kauppatori 5
67100 Kokkola, Finland

June 10-14, 2018
General Information:
Zinc College is a five-day management program for the zinc industry covering all key areas of the zinc business: global supply-demand, exploration, mining and metal production, recycling, zinc markets, concentrate and metal marketing and sales, LME trading, financial analysis, environment and sustainable development including zinc in crop and health nutrition. It consists of lectures, working group sessions, networking opportunities and a visit of Boliden's zinc smelter in Kokkola. A visit of the Terrafame mine will be organized optionally after Zinc College on June 15.
The program is targeted at managers from all areas of zinc and zinc-using companies, traders and others with an interest in zinc.
Speakers are executives from IZA member companies and experts from industry.
Zinc College 2018 will be organized by the International Zinc Association in conjunction with Boliden.
REGISTRATION IS OPEN!
Zinc College Program:
Zinc College starts on Sunday, June 10 at 8am and ends with a closing dinner & award ceremony on Thursday evening, June 14. An optional mine tour will be available on Friday, June 15.
Optional Mine Tour – 15 June:
The optional Mine tour to Terrafame will be an all-day tour. Transportation will be by bus. Journey time Kokkola – Terrafame is approx. 3.5 hours one way. Rather than going back to Kokkola after the mine visit participants can fly out from Kajaani Airport which is close to the mine. The mine visit will end at approx. 15:15 and you can take the 17:35 flight to Helsinki. Our bus will take you to Kajaani airport and continue to Kokkola afterwards for those who prefer to return to Kokkola.
Optional Short Course Financial Modeling, 9 June:
Zinc College instructor Graham Wood, Consulting Partner, XFRM Canada, in cooperation with IZA, offers a one-day, interactive workshop covering the basics of mining economic evaluation and describing some of the more advanced productivity features of Microsoft Excel.  The focus will be on properly structured financial models that follow a disciplined approach, are oriented around the mining/mineral process flow, are easy to review and are re-usable by the author and by peers. The course will be of interest to mining analysts, project managers, officers and directors of mining companies, their professional advisors, and anyone who constructs Excel models on a regular basis.
Fees: USD 250 (includes tuition, coffees and lunch)
If you are interested in participating in this course please contact Berit Wirths (bwirths@zinc.org) for further information and registration.
Fees:
IZA-Members: USD 3,000
Non-Members: USD 5,000
Priority will be given to participants from IZA member companies.
Fees include tuition, course materials, the plant and port tours, lunches, breaks and most dinners.
Fees for the optional mine tour on Friday, June 15: USD 150
Fee for optional short course on financial modeling, June 9: USD 250
Accommodation:
IZA has reserved a block of rooms for Zinc College participants at the Original Sokos Kaarle Hotel in Kokkola. Preferential room rates start at EUR 126 standard room single occupancy. Rates include breakfast, wifi, the use of sauna and gym, as well as VAT.
Information on how to reserve your room will be provided at the end of the registration process.
About Kokkola:
Kokkola (Swedish: Karleby) is a lovely city in Central Ostrobothnia, on the coast of the Gulf of Bothnia. It is the region's centre of commerce, research, education and culture and has an important industry – metal, chemical, engineering and shipping. Kokkola has almost 50,000 inhabitants. The city is about 500km northwest of Helsinki.
Transportation:
Kokkola airport is served by several flights per day to/from Helsinki and one flight per day to/from Stockholm. On the weekend there is a restricted flight service. However, there is a good train connection from Helsinki Airport to Kokkola. Jouney time approx 4 hours. Trains depart every 3 hours between 6am and 6.pm. Finnish Railways : https://www.vr.fi/cs/vr/en/frontpage