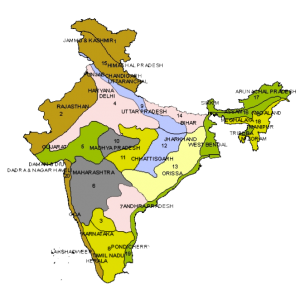 India is among the nations with the most zinc-deficient agricultural soils—and the average deficiency is projected to increase from the present levels of 50% to an estimated 63% by 2025 if the current trend continues. In some Indian states over 80% of soils are zinc deficient.
As India's soils are zinc deficient, so are India's people. The link between zinc deficient soils and zinc deficiency in humans is especially prevalent in developing nations such as India that rely on cereal grains as the main source of calorie intake. Twenty-six percent of the population in India is at risk for zinc deficiency–with India's current population of 1.2 billion, that means that 312 million people in India are deficient in zinc.
Zinc is Essential for India
The effects of zinc deficiency in humans is widely varied since zinc is an essential micronutrient for every living organism. In humans, zinc deficiency can lead to stunted growth, poor immune systems, and, in children under five, impaired physical and neural development, leading to decreased brain functions that will remain into adulthood.
The application of zinc fertilizers to soils and/or crops offers a simple, effective solution to the problem of zinc deficiency in food production, animal health, and human health. For example, it has been estimated that enriching rice and wheat grain with zinc could save the lives of up to 48,000 children in India annually.
Soils rich in zinc benefit all involved–from the farmers who earn more money from higher crop yields, to families getting more zinc in their diets, to whole communities that benefit from improved economy, less disease, and increased food security.
Zinc Nutrient Initiative in India
The Zinc Nutrient Initiative established a team in India with the primary goal of improving crop productivity, nutritional value, and human health through the increased use of zinc fertilizer.
The comprehensive ZNI-India Program includes:
Training courses in all aspects of zinc in agriculture
Regional and national workshops and conferences
Communication materials
Experience and expertise
Success in India


Crop response to zinc has been observed under almost all types of soils and agroclima tic zones in India. Response is high in grain crops as well as fruit and vegetable crops. Many reports are available showing significant cost-benefit effects of zinc fertilizers for resource-poor farmers, especially in regions where soil zinc deficiency is of particular concern.