March 29-31, 2021
Ritz-Carlton Hotel
Istanbul, Turkey
Join the 4th International Zinc Conference (Europe) at the Ritz-Carlton, Istanbul, Turkey from 29th-31st March, 2021. In addition to providing an update on key market trends, including supply and demand for concentrates and metal, sustainable development, first use markets with a focus on hot dip and continuous galvanizing, innovative applications and regulatory issues this 1.5-day conference offers excellent networking opportunities. The conference will be complemented by an optional plant tour.
The conference will be organized by International Zinc Association in cooperation with GALDER, the general galvanisers association of Turkey. This partnership will provide a unique opportunity for attracting zinc industry managers and executives, technical and market experts, traders, galvanisers and other first and end use customers from Europe, Turkey, MENA, Asia and other parts of the world. Speakers will include leading zinc industry stakeholders, technical experts and senior analysts.
REGISTRATION WILL RE-OPEN Q4 / 2020
This conference was originally scheduled to take place in 2020 and has been postponed until March 2021 due to Covid-19. 
AGENDA OUTLINE
Monday, 29th March - PM (starting at 2 PM)
half-day conference session followed by a welcome reception
Tuesday, 30th March - all day
all-day conference session followed by a dinner event
Wednesday, 31st March - optional
visit of two hot-dip galvanising plants
DELEGATE FEE
EUR 1,550 early registration fee valid until 31st January
EUR 1,750 regular fee applicable 1st February - 25th March
EUR 1,950 late registration as of 26th March
Fees include admission to conference sessions, networking breaks and lunch, welcome reception and dinner.
FEE FOR OPTIONAL PLANT TOUR 
EUR 50
Two general galvanising plants will be visited: Gülmelet Galvaniz and Marmara Siegener Galvaniz. Fees include transportation and light lunch.
FEE FOR SPOUSE REGISTRATION
EUR 125
This includes admission to welcome reception and dinner.
IZA MEMBER DISCOUNT
IZA Members save EUR 150.
SPECIAL DISCOUNT FOR ATTENDEES OF 2021 Zn&ZnO CONFERENCES
Delegates who attended the February Zinc and Zinc Oxide Conferences in Orlando, Florida benefit from the following discounts:
IZA Members: EUR 250
Non-members: EUR 100
GROUP DISCOUNTS:
Minimum 3 delegates from the same company
EUR 500 per person savings for IZA Members
EUR 350 per person savings for non-members
ZINC CUSTOMER DISCOUNT
40% discount for delegates from zinc customer industries (galvanisers, die casters, brass, fencing, zinc oxide and fertiliser companies, and steel mills).
The IZA Member discount code will be displayed on the opening/summary page of the registration process.
For all other discount codes please contact the event planner Berit Wirths (bwirths@zinc.org).
ACCOMMODATION
A block of rooms has been reserved for our conference participants at the Ritz-Carlton Istanbul at the discounted rate of EUR XXX (to be confirmed asap) – room per night single occupancy. The rate includes breakfast, tax and free Internet and access to gym.
Booking information will be provided at the end of the registration process.
CANCELLATION AND REFUND POLICY
Cancellations must be made in writing to International Zinc Association, attention of Berit Wirths, bwirths@zinc.org. Refund deadline is 10th March 2021. Cancellations made after 10th March are non-refundable.
All refunds are subject to a EUR 100 processing fee and will not be processed until after the conference.
Substitutions are permitted at all times.
CONTACT US
Berit Wirths
Communications Manager
International Zinc Association
bwirths@zinc.org
CONFERENCE SPONSORS AND PARTNERS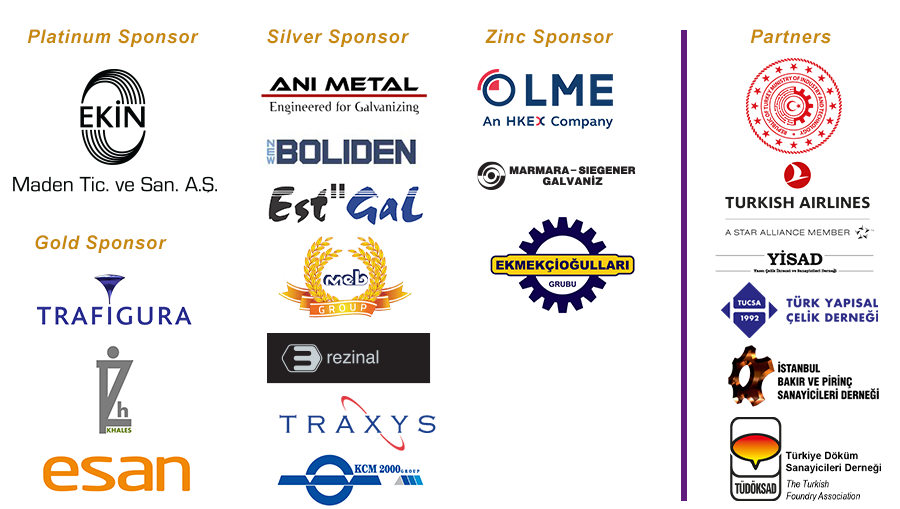 The European Metallurgical Conference EMC 2021 will be held in Salzburg, Austria, June 23-27, 2021. 
Themed "From Mine to Metal: The search for an integral solution to process complex ores and residues (with high impurities) and produce high value multi metal at lowest CO2 footprint" this conference will highlight the continuous efforts of the industry to meet the challenges of a globalized world by delivering important contributions to future welfare. 
The conference will be organized by GDMB Society of Metallurgists and Miners. 
For more information, please go to https://emc.gdmb.de/welcome/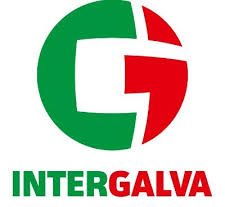 INTERGALVA is organized by the European General Galvanizers Association (EGGA). It covers technical, commercial and environmental topics for the general (batch) hot dip galvanizing industry and is combined with an exhibition of plant, equipment, materials and services for the industry.
In response to Covid-19 this conference has been postponed from 2021 to 2022.
For more information, please go to https://www.egga.com/events-publications/intergalva/