Provide global leadership, coordination, and value on strategic issues for the zinc industry, including market development, license to operate, communications, and sustainability.
The International Zinc Association (IZA) is the only organization dedicated exclusively to the interests of zinc and its users. IZA provides a forum for the zinc industry to analyze and anticipate issues affecting zinc globally and to ensure a timely and appropriate response. IZA coordinates initiatives good for zinc that are best done collectively, undertaken either directly or through involvement and support of customer groups and related stakeholders on the local, regional, and global levels.
Did You Know?
IZA Members represent 60% of worldwide production of zinc and 80% of production in the Western Hemisphere.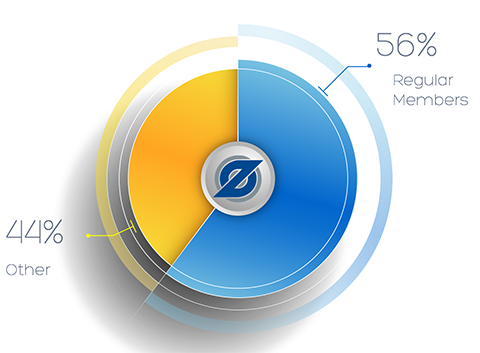 Leveraging Member Funding
IZA members represent 60% of global zinc production. In addition, there are more than 150 affiliate members from key zinc consuming end-user groups. Affiliate members, third-party contributors, conference and other revenue provide 44% of IZA funds under management.

Full Members
include mining and refining companies. Each full member has a seat on IZA's Board of Directors and is eligible to vote at the Annual General Meeting.

Affiliate Members
include exploration companies, recyclers, oxide producers, first users of zinc, and other companies interested in developing and promoting zinc and its users.

Associate Members
include industry trade associations, universities, research institutes, and other non-commercial organizations.
Representation
IZA is governed by a Board of Directors, which is composed of a representative of the top management from each full member company. IZA also has two technical committees: the Environment and Sustainable Development Committee and the Technology & Market Development Committee, which are composed of specialists from IZA member companies in these respective areas. IZA also has committees or task groups that address specific issues such as environmental regulations in Europe.
Communications Materials
IZA publishes a number of brochures, fact sheets and case studies on specific topics - all with the aim of promoting the benefits of zinc in specific applications. Members are free to use and show these materials.
Websites
IZA manages the primary website for the zinc industry, www.zinc.org. All member companies are listed and their company descriptions, logos and contact information is made available to the public on this website.
Conferences
IZA organizes numerous international, national and regional zinc conferences, seminars and symposia, including the International Zinc and Zinc Oxide Industry Conference and Zinc College, a biennial training program for the zinc industry. IZA members enjoy discounted rates for all conferences.
Technical Expertise
Member companies have access to IZA's extensive network of technical experts in zinc including environmental, sustainability and technical market issues.