ABOUT CYCLES, RECYCLING AND
CIRCULAR ECONOMY
Economic and human development have always been closely linked to the control and production of materials. Due to continued growth of the global economy and of the world population at the same time, the demand for natural resources, such as fossil fuels, metals and minerals is increasing. This not only implies the question about depletion of natural resources, but also impacts to the environment and climate. Thinking in circles is an approach that helps us to understand how our material – zinc – makes its ways through mining, production, product life time and recycling, but also leads to effective measures for optimization and change in our approach to more resource efficient ways to produce, use, and recycle zinc.
Total Zinc Production Still in Use
End of Life Recycling Rate (Global)
EAF Dust Recycled in North America & Europe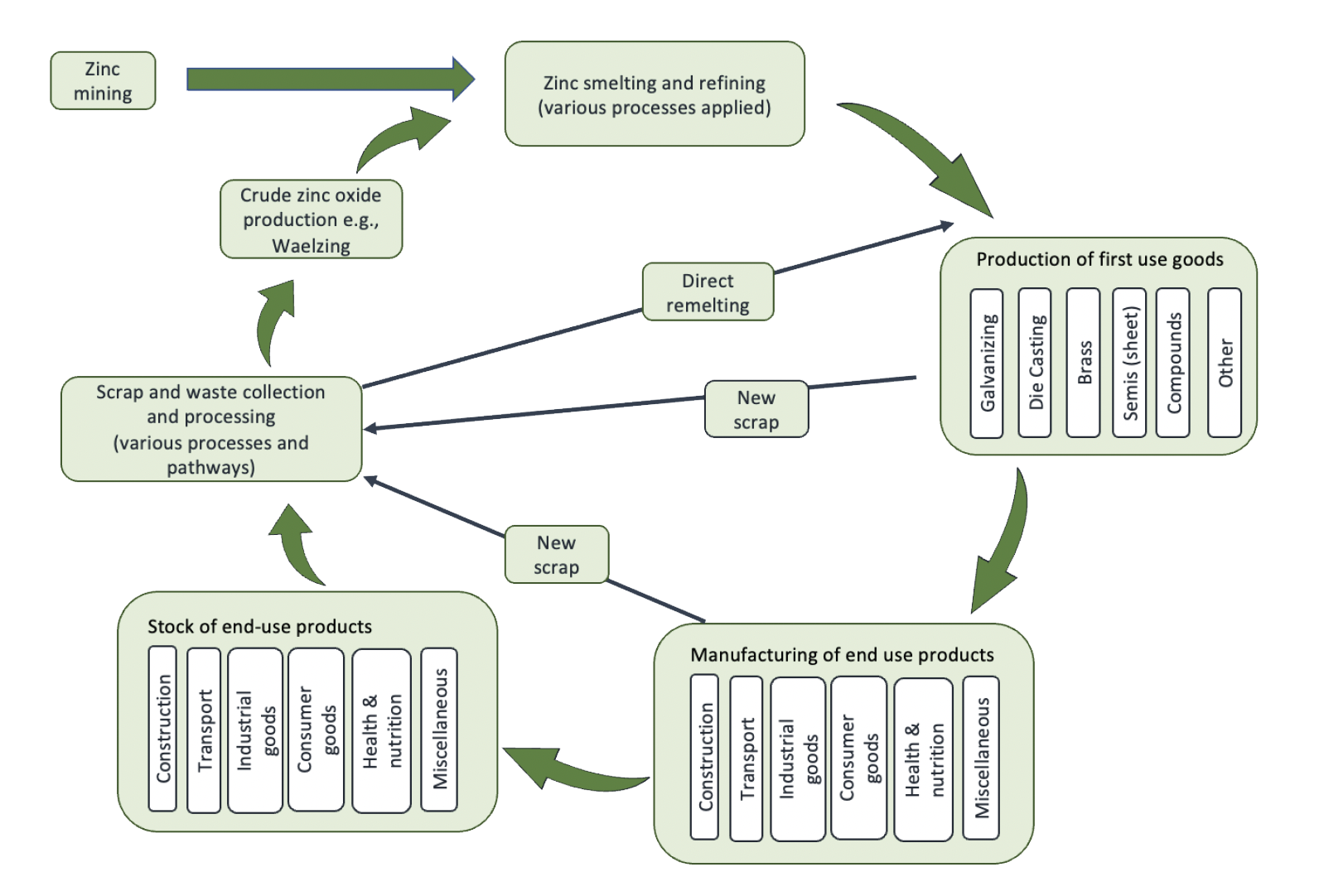 The Anthropogenic Cycle of Zinc
The Zinc Cycle – Zinc Stocks and Flows Analysis
Zinc follows a complex life cycle from extraction as an ore, through refinement and use in society, to eventual collection and recycling of products at the end of life. This life cycle can be characterized by collecting information at various stages of production, manufacturing, use, and waste management. In addition, information on these "stocks and flows" of material can be used to calculate recycling indicators at the national, regional, or global scale, along with illustrating temporal trends and future trajectories of in-use stocks in developing areas.
In cooperation with the Yale University (2014) and Fraunhofer ISI Institute (2020), IZA completed global stocks and flow analyses of the anthropogenic zinc cycle based on production and use figures. Global stocks and flow data are available. In the next step, regional information will become available.

Zinc Contributes to a Circular Economy
One of the biggest barriers to sustainability rest in the current linear "take-make-dispose" economic model. Looking beyond the model, a circular economy aims to redefine growth, focusing on positive society-wide benefits, by e.g. designing waste out of the system. Widely referenced is the definition by the Ellen MacArthur Foundation. The model distinguishes between technical and biological cycles. Consumption happens only in biological cycles, where food and biologically-based materials (such as cotton or wood) are designed to feed back into the system through processes like composting and anaerobic digestion. Technical cycles recover and restore products, components, and materials through strategies like reuse, repair, remanufacture or (in the last resort) recycling. 
Products that not only are recyclable, but also produced with a maximum of recyclable substances and renewable energy, are certified as Cradle-to-Cradle (C2C). Among the C2C certified products are specific zinc sheet qualities and galvanized steel surfaces.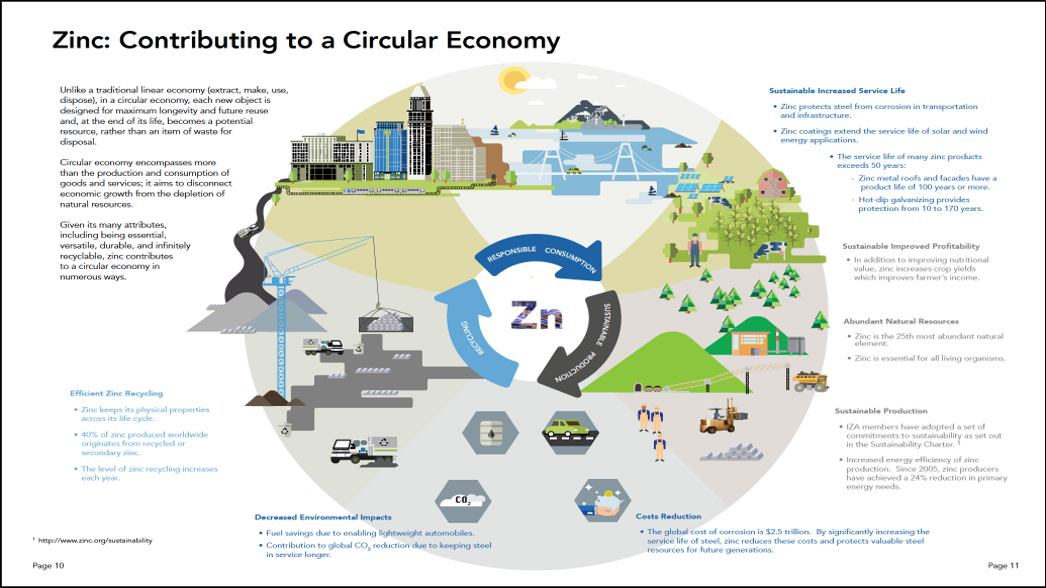 Zinc metal uses, such as galvanized steel and zinc sheet, are known for their durability.

Zinc metals are recycled with high collection and EoL recycling rates.

When zinc is used as fertilizer it moves from the technical into the biological cycle and returns to nature.

This  circular economy contributes to the UN SDGs # 9, 11, and 13.
Zinc is an Essential Part of the Multi Metals Cycles, an Enabler of a Circular Economy
Non-ferrous metals in nature never occur isolated from one another. Ore bodies often consist of mineral mixtures and always minor, sometimes valuable elements are contained in base metal ores and concentrates. The art of metal smelting in not so much recovering the main metal, but to separate all the other elements in way that they can be feed material for other recovery processes. Zinc smelting is no exception: when refining zinc metal, by-products are produced with concentrated other metals. Silver, copper, sometimes even indium, and germanium are among these. While providing these concentrated by-products to other metal producers, zinc smelters and refineries get by-products from other metal producers. Enriched steel mill dust, so-called Waelz oxides are one well known example.
Today these long-established multi-metal cycles earn more attention than ever: an increase in recycling of metal containing products again leads to mixed materials. The non-ferrous metal industry introduces these in existing cycles and further develops these to circular economy needs.
Resources | Scientific Publications
"A dynamic material flow analysis of the global anthropogenic zinc cycle: Providing a quantitative basis for circularity discussions", Leon Rostek, LA. Tercero Espinoza, Daniel Goldmann, Antonia Loibl, Resources, Conversation, and Recycling, Volume 180, May 2022
Increasing the Circularity of Zinc – Pathways to Closing the Loop", Eric van Genderen, Sabina Grund, Martin van Leeuwen, Bruno Gay, Antonia Loibl, Leon Rostek, Proceedings of EMC 2021
"Process Knowledge, System Dynamics, and Metal Ecology", E.V. Verhoef, G.P.J. Dijekema, M.A. Reuter, Journal of Industry Ecology, Volume 8, Nr. 1-2, Seite 23 - 43