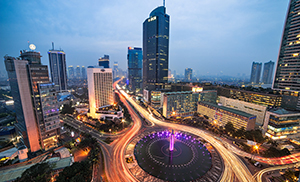 Indonesian National Galvanizing Seminar
20 April, 2017
Westin Hotel
Jakarta, Indonesia

Conducted under the auspices of the Indonesian Galvanizers Association (Asosiasi Galvanis Indonesia) and sponsored by the International Zinc Association, the Indonesian National Galvanizing Seminar aims to increase the level of awareness of the use and benefits of hot-dip galvanizing in construction, covering both infrastructure build and architectural applications. Attendees will comprise a broad range of specifiers, project managers and consultants in both government and the private sector.
A similar event is planned in Malaysia in early May 2017 and will be a joint initiative conducted by IZA and the Galvanizers Association of Malaysia.
For further information on these events please contact Mike Ainsley at mikeainsley@bigpond.com.
---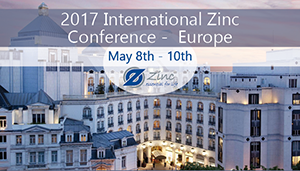 1st Annual International Zinc Conference – Europe
8-10 May, 2017
Steigenberger Wiltcher's
Brussels, Belgium
The International Zinc Association is pleased to announce the launch of its inaugural International Zinc Conference – Europe which aims to be the preeminent conference in Europe for networking with leading zinc industry stakeholders.  Hear from International experts on important topics such as:
Global zinc market outlook
Regional market outlook in China, Europe, India and Latin America
New market segment developments
Key Industry Challenges
Registration is now open. Click here for further information. 
---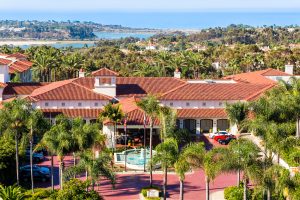 2018 International Zinc Conference and Zinc Oxide Industry Conference
February 11 – 14, 2018
Park Hyatt Aviara Resort
Carlsbad, California
USA
The International Zinc Conference is the premier zinc event of the year, highlighting key industry trends and challenges.  The 2018 International Zinc Oxide Industry Conference is being held in conjunction with the 2018 International Zinc Conference.  The venue is the Park Hyatt Aviara Resort in Carlsbad, California. The joint conferences provide a unique opportunity to learn about new research and market trends.  Both conferences offer excellent opportunities for building business relationships and networking with colleagues.
More information to come. 
---
Future scheduling of International Zn and ZnO Conferences:
2019 International Zinc Conference and Zinc Oxide Industry Conference

February 24- 27, 2019

Westin Kierland Resort
6902 E Greenway Parkway
Scottsdale, Arizona 85254 USA